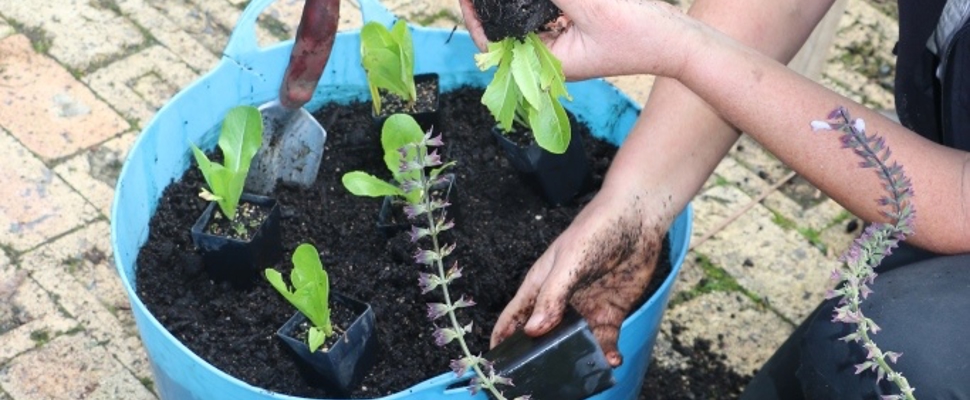 Container gardening can be a lot of fun. Select your favourite flowers or use foliage plants for year around interest - move the pots around around to create different effects as your mood takes you. Before you plant your containers, have a wee think through your plan - the plant, the growing media, the pot, the length of time the plant is to be in the pot, where you want the container to go etc.

Benefits of Growing in Containers

Ideal for smaller gardens, or if you don't have a garden, they're perfect for bringing some interest and colour to your windowsill, deck, doorstep or balcony. Grow veggies and herbs in containers near your kitchen for some fresh greens through the year. Move them around for different effects whenever you fancy or whatever the event.
Things to consider when selecting plants / pots

Select healthy vigorous plants – avoid anything old and leggy – check leaves and stems for any signs of nibbling, mould or discolouration.
Big isn't always best – younger plants adapt to their environment as they grow.
Consider the eventual size and form of the plant.
Ensure the pot or container has drainage holes.
Narrow, deep containers drain better than shallow and wide.
Traditional terracotta pots have good drainage (but keep an eye on the watering - because they're porous they can dry quickly in the heat).
Glazed pots come in a range of colours and don't dry out as fast.
Plastic imitation terracotta pots are nice and light for windowsills etc.
Planting
Never use garden soil in containers as it may contain worms, pests and diseases and generally not be of the right structure.
Check with the store re. the right potting mix for your plant. As a general rule the bigger and more long-term your container plant, the coarser the media necessary (it will be more supportive to a large plant and break down slower). As you go down in plant size the mix will become finer, ie. for seed propagation select the finest grade.
Growing media often contains a base fertiliser – NPK and some trace elements. Check the levels along with what you are growing e.g. for seeds you don't want high levels of nutrients.
Before planting, give old pots a good scrub with hot water and washing up liquid to get rid of any pest and disease.
Help drainage (and save on soil mix) by placing broken terracotta or large pebbles at the base of the pot.
Make sure plants are well watered before and after planting (give them a good boost with an overnight soak in a worm tea solution first). Always leave a couple of fingers of space at the top of the container to allow for watering.
Care of Containers
Containers require more watering than plants in the open ground. Especially in summer, give them a thorough watering (at the plant's base) daily. Do this early in the morning before the sun gets hot or, even better, late evening so they have the long dark cool night to really absorb the water.
Because containers hold smaller volumes of soil, nutrients leach out quicker. Either give them a slow release fertiliser every 2-3 months or a weekly liquid feed during the growing season (see worm farm / natural fertiliser handout).
Saucers under containers will protect decks and help them retain water more effectively.
Stimulate fresh growth by grooming regularly - remove spent flowers and yellowing leaves.
Help lock moisture in by adding a layer of pebbles, gravel, bark or seashells on top.
Revitilise tired and pot-bound plants by dividing, repotting and refreshing the soil mix.

Summer flowering

Alstroemeria cultivars (cvs.)
There are many modern cvs. which are
dwarf such as 'Alpha', 'Delta', 'Inca Gold.'
These are most suitable as they have a
long flowering season. Divide and repot
annually when out of flower.
Anigozanthos cvs.
An evergreen perennial, commonly known
as kangaroo paw with orange, red, yellow,
green, range of colours and flowering for
months. 'Bush Ranger'(red), 'Bush
Splendour'(red), 'Bush Illusion' (orange/
red), 'Bush Gold' (yellow/green), 'Bush
Nugget' (red/gold/orange) are highly
recommended. Divide old spent rhizomes
when repotting.
Begonia cvs.
For continuous flowering, colour range
and disease resistance the 'Nonstop'
strain is unbeatable. The large doubleflowered
Tuberhybrida begonias are ideal
for containers. Place containers in the
semi-shade. Dry off after flowering and
keep dry and cool until repotting in the
spring.
Auckland Botanic Gardens, 102 Hill Rd, Manurewa, Auckland, New Zealand 09 267 1457 botanicgardens@arc.govt.nz www.aucklandbotanicgardens.co.nz
3
Brachyscome cvs.
B. multifida is a much branched perennial
with several good cvs. - 'Amethyst',
'Breakoday'.
B. 'Strawberry Mousse' dense low growing
perennial with large pink flower heads. B.
'Lemondrops' compact growing, with
lemon-coloured flowers.
Dahlia dwf cvs.
Many dwarf cultivars are available some
with attractive foliage. Dormant in winter.
Repot annually in spring.
Evolvulus pilosus 'Blue Sapphire'
Ideal for trailing over the edge of a
container. Small silky-grey leaves and
blue flowers. Full sun.
Gaura lindheimeri cvs.
Several shorter growing cvs are available
such as 'So White', 'Flutter Joy', 'Whirling
Butterflies' and 'Siskiyou Pink'. Long
flowering and drought tolerant. Full sun.
Heliotropium arborescens
Shrubby perennial, often known as cherry
pie, very sweetly scented violet-coloured
flowers. Full sun.
Hemerocallis dwarf cvs.
There are many good dwarf cultivars
available. Full sun, semi-shade. Divide
annually in early spring.
Laurentia axillaris
Sometimes known as Isotoma axillaris.
Smothered in star-shaped blue flowers.
Cultivars are now available in white and
pink. Prune heavily after flowering. Full
sun.
Lithodora diffusa cvs.
Small evergreen perennial, summer
flowering, full sun. Blue flowers with some
cvs in white or blue and white.
Lobelia richardsonii (syn. L. 'Mistral')
Blue flowers all the year round on trailing
stems. A white flowered form is available.
Trim as necessary.
Pelargonium – Regal and ivy geranium
cvs. A range of cvs. in various colours.
Full sun, drought tolerant. Reduce
watering in winter.
Petunia Colourwave series
Various shades, perennial, full sun.
Phuopsis stylosa
Trailing stems with dense heads of tiny
pink flowers over a long period. Full sun,
drought tolerant.
Salvia spp. and cvs.
Many low growing species are available in
various colours. Please refer to Advisory
leaflet B43 'Salvias for Auckland' and to
the Botanic Gardens National Reference
Collection of Salvias.
Scaevola 'Sunfan'
Lavender-coloured flowers. Full sun, long
flowering season.
Verbena cvs.
Full sun, trim back in spring. The following
cvs. appear to be disease resistant
'Panache', 'Pink Profusion', 'Purple
Passion' and 'Rose Queen.'
Xeronema callistemon
Attractive New Zealand native with swordshaped
foliage and large scarlet brush-like
flowers in spring. Requires semi-shade
and an orchid potting mix.
Auckland Botanic Gardens, 102 Hill Rd, Manurewa, Auckland, New Zealand 09 267 1457 botanicgardens@arc.govt.nz www.aucklandbotanicgardens.co.nz
4
Winter flowering
Argyranthemum cvs.
Commonly known as marguerite daisies.
Many dwarf cvs. are available. Please
refer to Advisory Leaflet B41 'Marguerite
Daisies for Auckland'.
Cheiranthus cvs.
Perennial wallflowers, large colour range,
scented flowers. Full sun, cut back after
flowering
Clivia spp.
A range of colours from yellow to red.
Large strap-shaped leaves, ideal for
shade. Drought tolerant.
Cyclamen spp.
Attractive foliage, shade tolerant. Keep dry
in summer.
C. coum and C. repandum are reliable
winter flowering species. Some C.
persicum selections have scented flowers.
Cymbidium cvs.
Prefer semi-shade, plant in an orchid mix.
Select miniature species and hybrids as
these are more prolific and come in a
range of colours.
Dendrobium kingianum hybrids
Free-flowering, sun or shade. Available in
various colours. Plant in an orchid mix.
Felicia amelloides
Blue or white daisy flowers. Trim after
flowering. Full sun.
Helleborus orientalis hybrids
Colours range from white to deep wine
with attractive foliage. Trim old foliage off
before flowering. Dislikes disturbance.
Kohleria hirsuta (syn. Isoloma hirsuta )
Orange tubular flowers and attractive rufus
foliage ( covered in reddish hairs). Requires
semi-shade.
Nemesia caerulea cvs.
Free-flowering, white, pink and lavender
coloured, some with scented flowers. Full
sun.
Oxalis spp.
Many attractive free-flowering spp. Best
suited to containers in full sun. Plant in the
autumn and keep dry during the summer.
Primula obconica cvs.
Scented free-flowering with a large range
of assorted colours. Semi-shade.
Streptocarpus x hybridus cvs.
Commonly known as the Cape primrose.
Small-flowered Violetta series are available
in assorted colours. Semi-shade,
good drainage.
Sutera cordata 'Blizzard'
Occasionally still offered and misnamed
as Bacopa. Dense trailing ground cover
smothered in white flowers. Full sun.