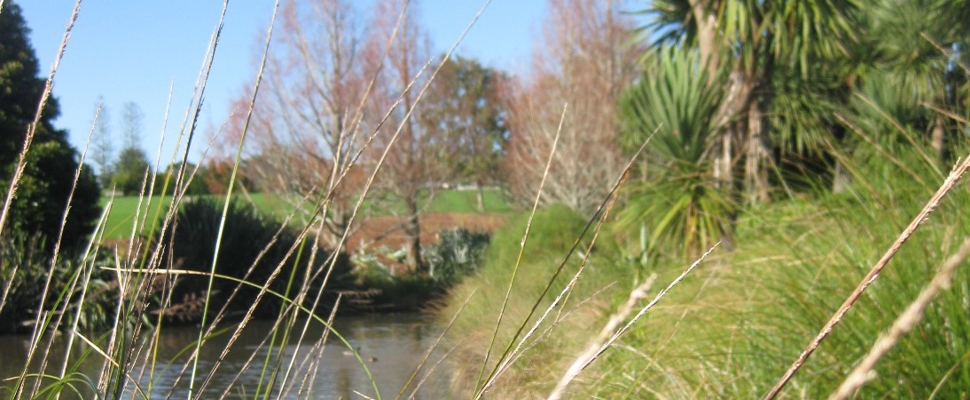 Before you start
Check the history of a site before anything else, you never know what you might dig up. Archaeologically significant sites have restrictions around use and you don't want to find out halfway through planting you've just dug up a dinosaur!  Luckily for me, we have done a full survey of the site so I know I won't find any moa bones in my holes.
The timeline below gives the full run down of what I will be up to and when, to help you plan your own project. Because of my timeframes (I need to finish this unit by November) the timeline isn't ideal, but it will give you a good idea of what my blog will cover.
Keep an eye on my blog - I'll update it each month with photos and information on my progress. If you have any questions or would like to find out more, you can contact us by email: botanic.gardens@aucklandcouncil.govt.nz.


Jeanette
Timeline for riparian revegetation project at the Auckland Botanic Gardens
Timing
Activity
February-March

Site Assessment

planting zones
steam edge, flood area, standing water, swampy, moist soils, high land
soil type
project area m2
plant census
access
vehicle, people, animal, fencing
weeds
aspect
wind, sun

March

History of site

archaeological
iwi
builds
weeds
pest and disease

Prepare planting plan

decide on species to used - consider environmental factors such as frosts and flood
numbers based on zone size, 1m spacing
constraints and abilities based on our practices - no fertiliser used, water available from stream, not mulching

Weed control

identification
environmental vs. common garden
choose control method - chemical, physical
carry out control on target species

April-May

Prepare site

check weed control effective - undertake more if necessary
clear space for planting - remove dead plant material, cut back grass

Planting

gather group planting team
cover health and safety of site and equipment
demonstrate desired planting method
place out plants into correct zones (excluding stream edge, leave access path)
get planting
water in, if necessary, from stream

Fencing

exclude animals and people
protect plants and stream
erosion control

August-October

Site inspection

once a month
flood damage - erosion, plants swept away
frost damage - mitigation
replace plants -only in zones where water will be accessible to plant through summer, root development
determine survival rate - ideal 90% first year, 80% second year

October

Stream bank planting

carried out now to avoid flood sweeping plants away - allows plants to establish root system, water supply easily accessible, won't dry out over summer
gather group planting team
cover health and safety of site and equipment
demonstrate desired planting method
get planting

November-December

Release

cut back grass from around plantings - shears fast method, reduce likelihood damaging plants such as with line trimmer
assess/follow up weed control

Ongoing

Continued management will then be undertaken as stipulated in the Management Plan, including planting of successional species.