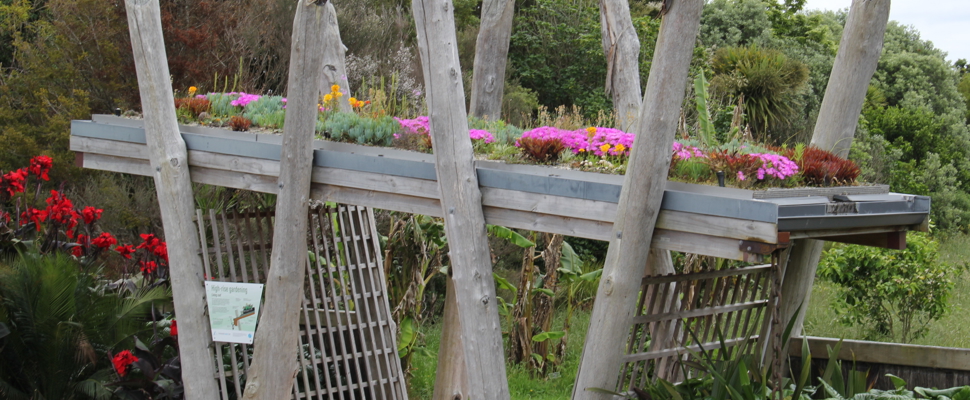 The Auckland Botanic Gardens embraces the principles of sustainability.
What does this mean? It means we try to work with as little impact on the environment as possible. We are on a continuous sustainability journey, making changes to our horticultural practices and improving sustainability as we upgrade our facilities and infrastructure.
Three main branches to our efforts are:
Sustainable horticultural practice
This underpins everything we do. Our goal is to optimise the health of our plants without relying on fungicides or insecticides. We want to establish plants that are self-sustaining, and require minimal intervention. To achieve our goals, we use plant trials to identify plants that perform well and remain healthy in Auckland's mild climate, without pesticides. In conjunction with wise plant selection we also focus on soil health to help bolster plant resistance to disease. We increase soil health by covering soils with mulch and adding compost when planting. A particular focus is given to the role plants play in environmental enhancement, for example, a Water Sensitive Design (WSD) to protect and enhance our waterways.
Sustainable water management
A large number of stormwater treatment devices have been installed throughout the Gardens. Visitors can take our 'Sustainable Water Trail' to view these devices. Whenever we undertake development we incorporate (where possible) Water Sensitive Design (WSD) from the start of a project. We also collect water for re-use and are working at decreasing our watering needs on site.
Energy conservation
We are acting like the many plants we grow by harnessing the power of the sun. We've started out with a few solar and pv panels to run our Education Centre.