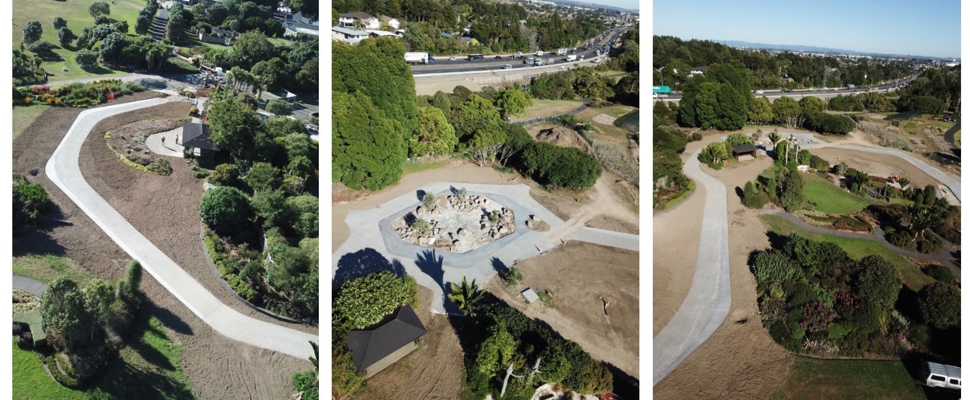 Updated October 2019
The fences are down and the new pathway is open.
The contractors have moved out and so we have opened up the path network again. The gardeners have been busy planting up the new garden bed areas and we only await the signage before we can say it is complete. We really wanted public to enjoy being free to walk the whole of our gardens so thought you would be happy to bear with us as we await signs to arrive. 
Venue bookings • New function site will be available for bookings from February 2020: The Perennial Garden consequently will not be used as a wedding site. The Rock Garden and Herb Garden sites are fully open for wedding use.
Sculpture in the Gardens • Preparation for our biennial sculpture exhibition is underway. Footings have been poured for the larger works and we have just fenced them off whilst the concrete cures. The exhibition runs from 17 November 2019 through to 1 March 2020 so there will be plenty of time to plan a family day out and enjoy the event.  
Pedestrian path development 
Following our Botanic Gardens Master Plan we have created a new pathway through the Gardens to enhance access to our garden collections and improve the visitor experience. This development will link our garden collections together via a dedicated path for pedestrians. 
Thank you for your patience during the construction. 
If you have further queries, talk to the staff in the Huakaiwaka visitor centre or phone 09 267 1457 x1 during business hours of 8am – 4.30pm.
Busy car parks
If travelling to the Gardens at peak times, we suggest building some extra time into your travel planning to get to the Gardens. Both our car parks can fill up quickly, especially on fine weather days, weekends and special events. Please be prepared to drive around and either wait for a car park or take the opportunity to park on nearby Charles Prevost Drive.