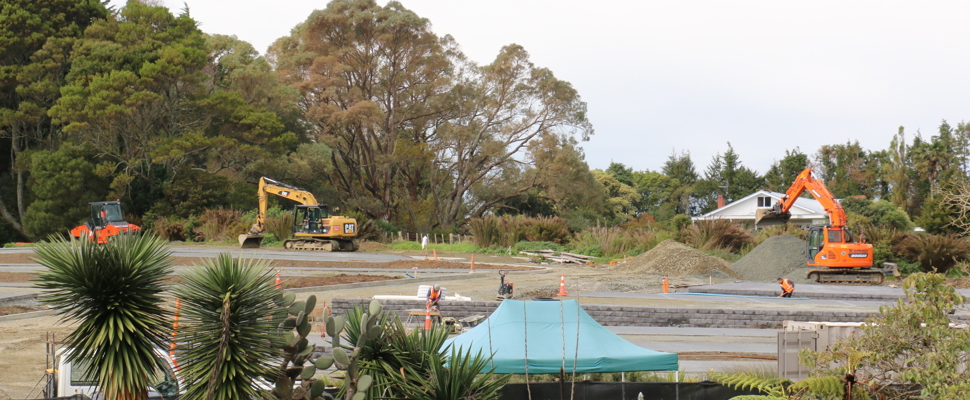 Construction is under way for our new overflow visitor car park. Find out how this may affect your visit below.
*Update July 2018* 
We're now entering the final phase of construction! During this work, the entrance at Katote Close and the African Garden will be closed to ensure visitor safety. These closures will be in place from 23 July 2018 until end of August 2018.
Katote Close entrance closed: We suggest visitors use the alternative entrance on Hill Road to enter the Gardens.
African Garden closed: Construction will prevent access to the African Garden, so this will be closed until work is complete.
Potter Children's Garden limited access: Entry from the lakeside path to the Children's Garden will be inaccessible during this work. We recommend those using prams, wheelchairs or mobility scooters use the top entrance to the Potter Children's Garden near the orchard.
Rock Garden limited access: We apologise that there will be no access to the Rock Garden for mobility scooters and wheelchairs during this work.
Off-leash dog area: This area is currently being landscaped with soil remaining from the car park project. We expect this will be open to the public by summer.
Detour route through Gardens: Some path sections will be closed during work. Please see Detour signs in the Gardens for alternate routes.
What's happening? 
We are upgrading the overflow visitor car park opposite the Rock Garden. This project will add 175 car park spaces for busy periods and a dedicated pedestrian pathway to enhance visitor safety.
How will this impact your visit?
Getting to the Gardens
We suggest building some extra time into your travel planning to get to the Gardens. Our normal Hill Rd car park is available, but it fills up quickly, especially on weekends. Please be prepared to drive around and either wait for a car park or take the opportunity to park on nearby Charles Prevost Drive.
While you are here
Auckland Botanic Gardens is open as usual, however some areas and paths may be closed at times for safety reasons. Alternate routes will be posted in the Visitor Centre and on site signage. We suggest visitors with limited mobility or using pushchairs, mobility scooters or wheelchairs use the main route around the lake – see the Visitor Centre for more information.
Please take care when crossing paths as there will be increased vehicle traffic.
Will any services be disrupted?
The Wiri Rambler service and Growing Friends plant sales are not currently operating while the loop road area is closed to the public during construction. Please feel free to contact us to find out if these will be operating when you visit.
Why now?
As the initial landscape work needs to be done in the dry season, work will begin in February and is expected to finish in August 2018.
What hours will construction work take place?
Monday to Saturday between 7am – 6.30pm. The proposed construction period is Feb – Aug 2018.
Why is the car park being upgraded?
When we opened in 1982 nobody realised how popular Auckland Botanic Gardens would become. In the last decade, visitor numbers have doubled to nearly one million visitors per year. This means the number of cars arriving has also increased dramatically. If you are a regular visitor you will know parking is one of our biggest challenges. Until now, our only extra parking has been a grass bank opposite the lake, and this is often unavailable for use due to bad weather making it unsafe for vehicles. 
The new car park will offer an extra 175 spaces and will be opened when the main car park is full. The main car park has 163 spaces.
Why is there an area fenced off in the event site /off-leash dog walking area?
Top soil from the overflow car park development is being temporarily re-sited on two areas of the event site. When planting commences some of the soil will be used for the car park and the rest to renovate the lawn area which is fenced off.
If you have any further queries, talk to the staff in the Huakaiwaka visitor centre or contact us.
Thank you for bearing with us during this project. We look forward to sharing the new space with you all later in 2018.