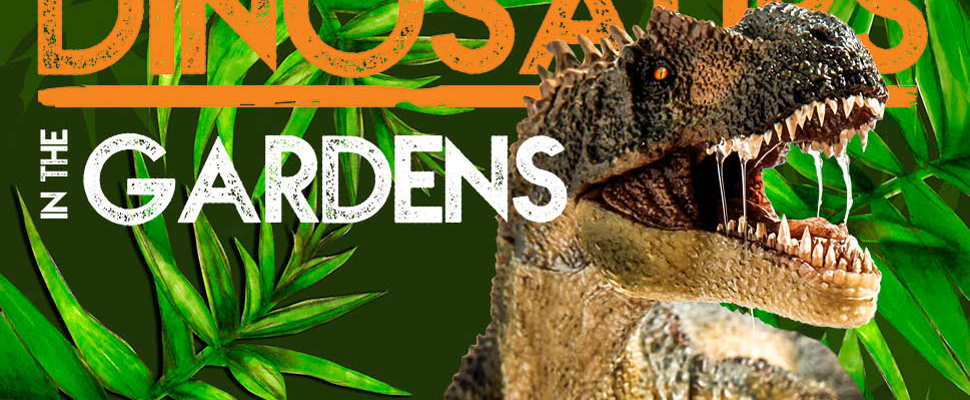 Dinosaur Encounters
It is free to attend a Dinosaur Encounter.  Each encounter takes approx 20 minutes and takes place in the eastern side of the Gondwana Forest, this is near the New Zealand Rose Garden.
Our main carpark fills up quickly on weekends.  To avoid the traffic and queues, we recommend you use the designated parking at the Everglade Drive entrance to the gardens.  Note that gates to the Everglade Drive entrance close at 4.30pm – please ensure your car is removed by then.
Directions to Everglade Drive from the motorway 
Directions from the Hill Road entrance to the Gardens
Dogs
For the safety of kids (and dogs) the area where we're holding the Dinosaur Encounters will be a no-dog zone during shows. Our usual designated off-leash area will be available throughout the event (see map on our website).
Scary-ness
We have advised parental discretion for under five year olds – but we may be exaggerating the fright factor just a little. The dinosaurs are pretty friendly and the shows are not intended to be scary. We're leaving it to parents to decide as they know their kids best.
If your little one is not impressed with the show, you can take a walk around the Gardens instead, you won't be locked into the show area.
Tickets
You can cancel or change your booking.  Just go to the Eventbrite website to cancel your tickets and re-book another session.  If you're having trouble with this, email us: botanicgardens@aucklandcouncil.govt.nz
Dino Zone
For an extra special experience, enter the Dino Zone after each Dinosaur Encounter.  Entry fees apply - $5 per child and $2 per adult. Children must be supervised by a parent or guardian while in the Dino Zone.
Activities include dinosaur petting, dino selfies, sieving for fossil shark teeth to take home and the chance to get up close to nest of Tyrannosaurus Rex eggs!
Cancellations
In event of extreme weather conditions, we will be forced to cancel Dinosaur Encounter sessions.  We will make every effort to communicate any cancellations.  Please keep an eye on our Facebook page if the weather is looking questionable.
What else is on?
At the Huakaiwaka visitor centre, you can find out about the actual dinosaurs that lived in New Zealand!  There is a display including huge replica dinosaurs, actual fossils and a fun dinosaur dig for the kids. Kids can also enter our colouring competition at the visitor centre.
Take the Dino Trail and follow the dinosaur footprints from the visitor centre down into the Gondwana Forest where you can see the living descendants of ancient plants that dinosaurs lived amongst!
Merchandise from the Dinosaur Encounters will be available to purchase at the visitor centre.