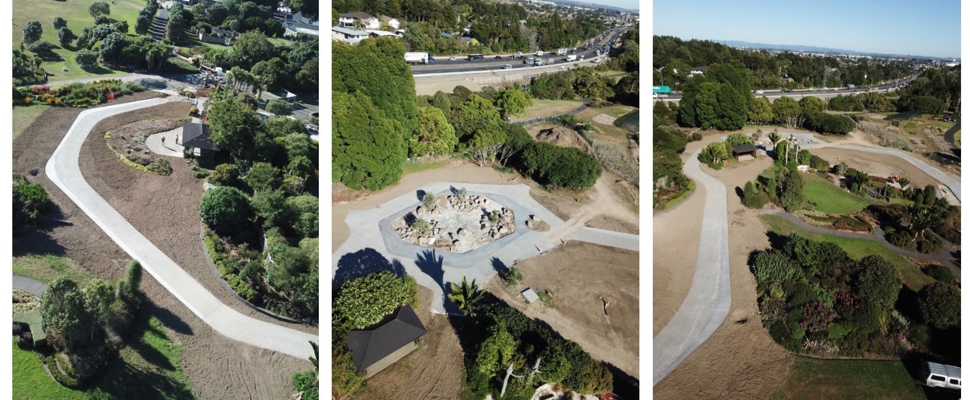 Updated March 2019* 
Construction at the Gardens
We are currently undertaking work to upgrade some areas of the Gardens. We are still open as usual, however some areas will be closed while this work takes place. Find out how this may affect your visit below.
Pedestrian path development • Until end of Autumn 2019: Some areas or paths in the Gardens will be closed during this work. Please see detour signs in the Gardens for alternate routes. If you have limited mobility or use a wheelchair or mobility scooter, please feel free to talk to staff in the visitor centre for more information. Find out more about this development below.
Venue bookings • Some wedding sites affected until early 2020: The Perennial Garden is unavailable for wedding hire during this work. The Rock Garden and Herb Garden sites will be affected by garden development work - please see further information in the FAQ section below.
Pedestrian path development under way
Following our Botanic Gardens Master Plan we are creating a new pathway through the Gardens to enhance access to our garden collections and improve visitor experience. This development will link our garden collections together via a dedicated path for pedestrians.
FAQs:
How will this affect my visit?
Some areas and paths in the Gardens will be closed at times to keep visitors safe (see map below). Information will be posted in the Visitor Centre, and detour signs will be on site in the Gardens. For visitors with limited mobility, please talk to staff in the Visitor Centre for more information.
How will this affect accessibility?
During this work, we regret that some areas may not be accessible for visitors with limited mobility or those using pushchairs, mobility scooters or wheelchairs. Please see staff in the Visitor Centre for more information and detour signs for alternative routes through the Gardens.
When will construction work take place?
Monday to Saturday between 7am – 6.30pm. Construction will begin in November 2018 and is expected to finish end of  Autumn 2019.
Why now?
As the initial earthworks needed to be done in the dry season, work began in November. Work is expected to take around 7 months to complete.
Why are you creating a new pathway?
Currently the main route through the Gardens is a loop road shared by pedestrians and vehicles. Until now we have not had a dedicated continuous pathway to connect our garden collections. Our new path way has been designed to link our garden collections together to provide visitors with an improved experience of our wonderful gardens and safer pedestrian access.
Will any of the wedding sites be affected?
The Perennial Garden wedding site is unavailable for hire for the duration of the construction. A new exclusive space is being created for future outdoor function use such as weddings. Check back with us in August 2019 for an update.
The Herb Garden and Rock Garden sites will at times be affected by the garden development work. These sites are available to hire, however any bookings made will be done so on the understanding that there may be visual or noise disturbance while work is carried out. We apologise that these sites will not be suitable for those with limited mobility or using mobility scooters or wheelchairs while this work is carried out.
Is there a map showing which areas are closed during this development?
Yes - see below: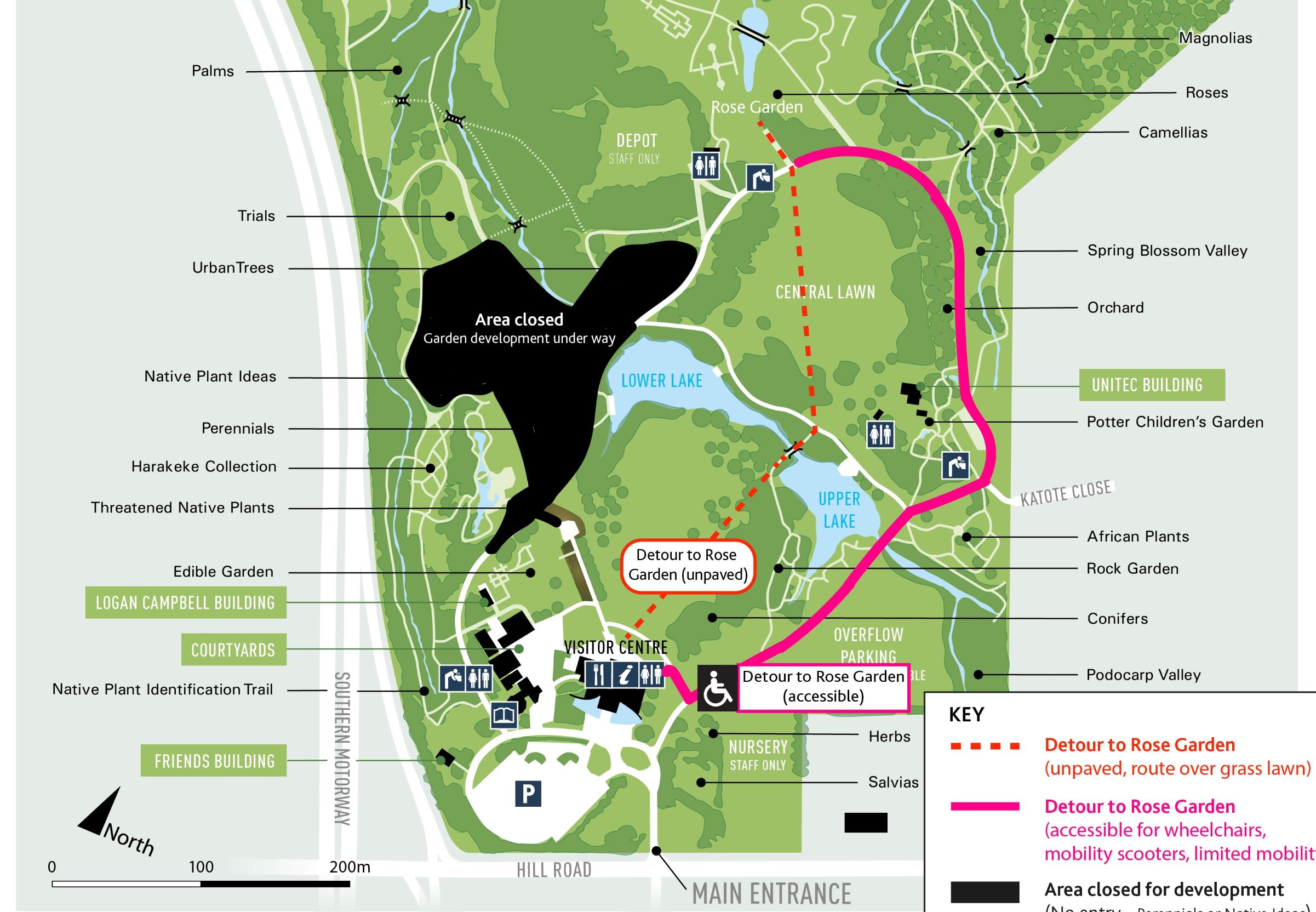 Thank you in advance for your patience during this time of construction.
For more information and further updates, visit our website: www.aucklandbotanicgardens.co.nz.
If you have further queries, talk to the staff in the Huakaiwaka visitor centre or phone 09 267 1457 x1 during business hours of 8am – 4.30pm.
Overflow car park completed
We are happy to share that our new overflow car park was completed in October 2018. This will be open for visitors at busy times when the main car park is full. When the overflow car park is open, visitors can enter this car park from the main Hill Road entrance and exit via Katote Close. 
If travelling to the Gardens at peak times, we suggest building some extra time into your travel planning to get to the Gardens. Both our car parks can fill up quickly, especially on fine weather days, weekends and special events. Please be prepared to drive around and either wait for a car park or take the opportunity to park on nearby Charles Prevost Drive.