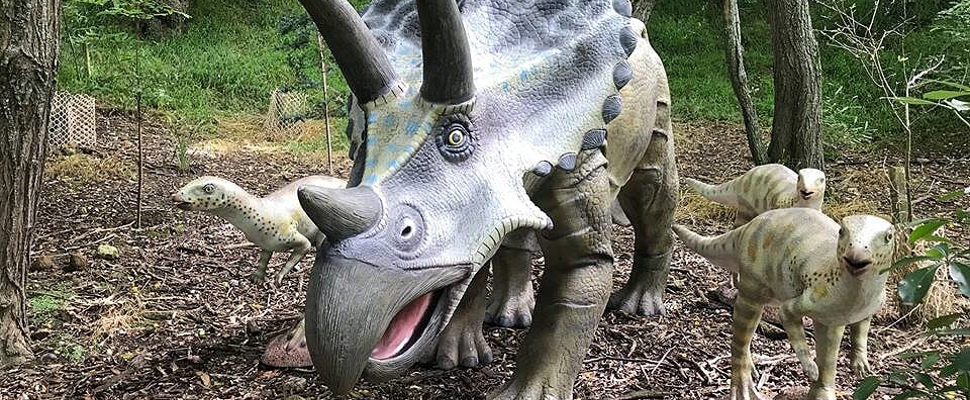 Dinofest in the Gardens!
If you're planning a visit to Auckland Botanic Gardens over Easter, be careful you don't end up as lunch! Dinosaurs are coming back to the Gardens, and this time they're hatching!
 Auckland will be dialling back the clock 70 million years, to the time when dinosaurs once roamed the earth.
 Meat-eating Tyrannosaurus Rex and a live size Triceratops will be amongst the pre-historic giants stomping through the Gondwana arboretum for DinoFest over Easter.
 "We tell the story of Gondwana, the ancient supercontinent that once included the land that is now New Zealand," said DinoFest event organiser Laurence Taylor.
 "It's surprising the number of people who don't realise a community of dinosaurs once lived in New Zealand. Fossils discovered include a pterosaur, titanosaurs, ankylosaurs, and large theropod dinosaurs, (two-legged meat eaters).
 The conifers and tree ferns in the Botanic Gardens are the perfect setting, with the ancient bush making an excellent prehistoric dinosaur trail."
 DinoFest will open for sessions over Easter starting at 10:30am, 1pm and 3pm with final dates to be announced. Tickets will be available on Eventfinda.
 The event includes a Dinosaur Encounter, a "Dino Dig" and "Feel a Fossil" palaeontological activities as well as kid's dinosaur tattoos, sieving for fossil shark teeth, art activities and a Dinosaur bush trail.
Daily
from Friday
10 Apr 2020
to Monday
13 Apr 2020
10.30am, 1pm, 3pm
Price and exact dates to be announced shortly
Email us