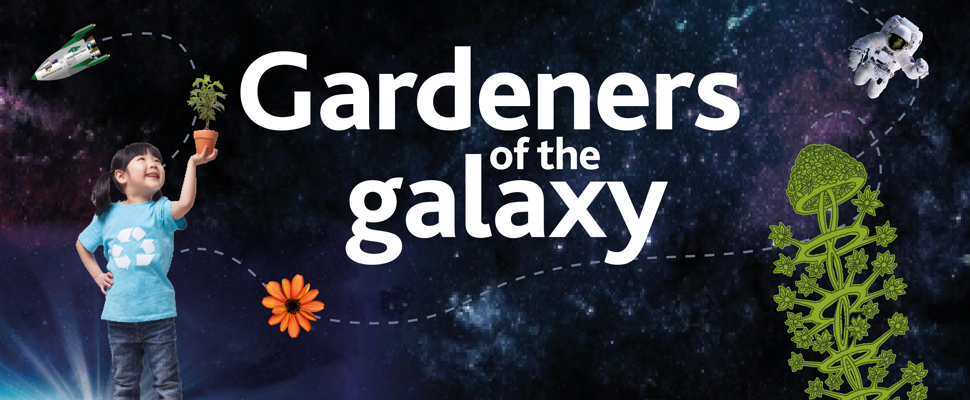 Gardeners of the galaxy
Your space rocket has crash landed on an alien planet – how will you survive? What will you eat and how will you breathe? Life on an alien planet is tenuous, and the answer to surviving in this harsh environment is plants. 
Plants are life!
Join us for family fun at Gardeners of the galaxy this summer and find out how plants are essential for life in space. Take one small step into life as an astronaut as you discover how plants would be key to survival on an alien planet. 
🚀 Start your space mission at our Visitor Centre - pick up a Mission Sheet for kids, visit our crash-landed rocket and take an astronaut selfie!
🌱 Visit our Science Lab to check out the experiments and live plants being grown.
🚀 Play fun games in our kids International Space Station and get creative with our Future Plants colouring wall.
🌱 Head outside to try hands-on rocket power activities with MOTAT and take our Solar System Walk. 
🚀 Get extra fun facts and videos on your space mission using the STQRY app on your phone - see below for links to download the STQRY app.
Plus keep an eye on our website or Facebook for special activities such as evening star-gazing in the Gardens, solar-gazing and more (please note some events have limited spaces and will require advance booking).
Brought to you by the Auckland Botanic Gardens and Auckland Council in association with Stardome, MOTAT, Hyalite and the Auckland Astronomical Society. 
Learn as you go - download the STQRY app to enjoy fun stories and videos for Gardeners of the galaxy:
Google play store: click this link to download the STQRY app on your Android device.
Apple iTunes: click this link to download the STQRY app for your iPhone.
Please note that our Visitor Centre is open daily except for Christmas day.
Daily
from Saturday
1 Dec 2018
to Sunday
10 Mar 2019
Free
Email us