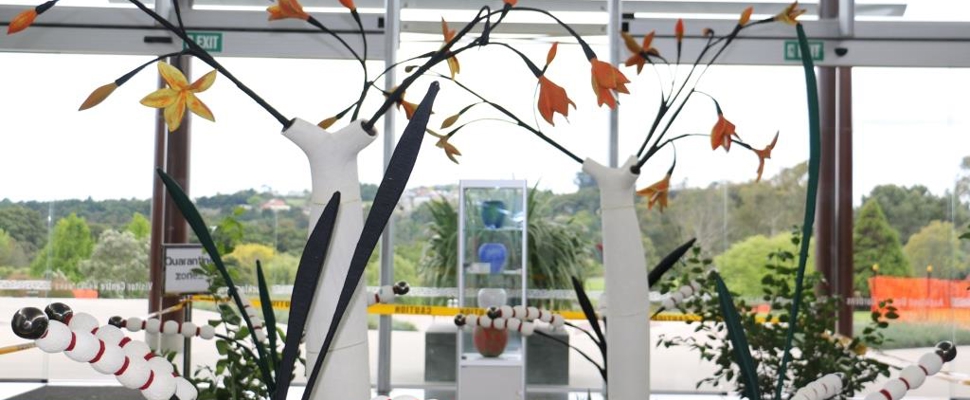 In Quarantine
Coinciding with the Auckland Festival of Ceramics, Todd & Karuna Douglas have firmly planted their latest, stunning, large-scale ceramic installation 'In Quarantine', within the glasshouse-like structure of the Visitors Centre. 

Evolving from the Alien Intruders, whose arching vines and triffid-like flowers delighted visitors to the Rose Garden during the 2013-2014 Sculpture in the Gardens, 'In Quarantine' is a vibrant, whimsical installation intended to enchant and surprise visitors.

Inspired by the role the Auckland Botanic Gardens plays in the conservation and survival of rare and endangered native species, and in particular the beautiful native vine, Tecomanthe speciosa, Todd & Karuna have created their own rare and endangered plants.

These specimens are the last of their kinds in the world.  Recently discovered on a small island at the edge of the South Pacific, they have been saved from extinction, and are in quarantine in the subtropical confines of the Visitors Centre.  Once they have been identified and deemed to pose no biosecurity risks, they will enter the catalogued collection inside the Auckland Botanic Gardens. 
Hand built out of multiple clay components, these plants are finished with a variety of textured and lustrous glazes, and will happily thrive in both indoor and outdoor spaces.  They are not invasive.
 Frangipani Trees: $14,000 each
 Obbly Bobbly's: $3,900 each
 Tecomanthe speciosa
Plants cannot come more endangered than our native Tecomanthe speciosa.  In 1945, a single surviving specimen was found, clinging to a cliff face in the wild on Manawa Tawhi, the biggest island of the Three Kings group off the northern coast of New Zealand. The population had been devastated by goats, and this discovery saved the species from certain extinction.
The specimen was brought back to the mainland, where tissue samples were sent out to key nurseries to propagate, thus ensuring the survival of the species. 
Tecomanthe is now a widely used vine in home and civic gardens.  It's incredible to think that every single plant today is descended from that single specimen discovered back in 1945.
Daily
from Monday
2 Nov 2015
to Monday
16 Nov 2015

Email us