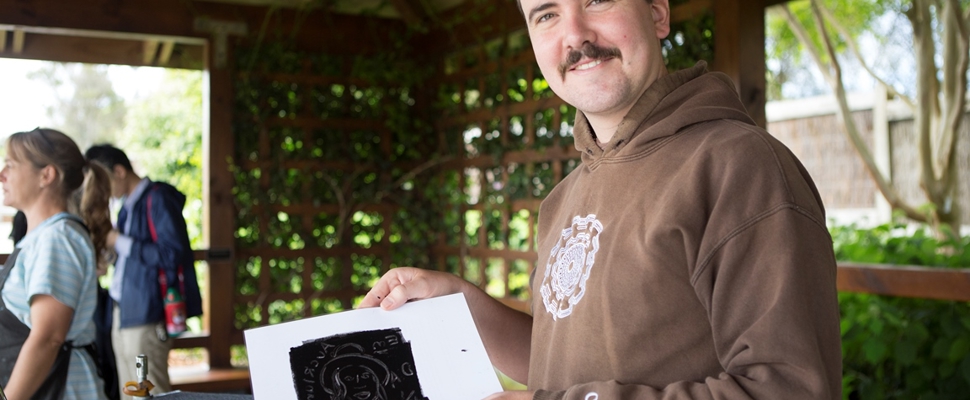 Printmaking for adults
Enjoy a creative day exploring printmaking with Toni.
An experienced tutor with a Master of Fine Arts in Printmaking, Toni will guide you as you create your own botanically inspired prints using layering and stencils cut from nature-inspired shapes.
Materials are supplied. Please ensure you wear clothing suitable for making art.
Bookings are required. Please contact the visitors centre for more information. 
Thursday
14 January 2016
9am - 3pm
Free
2016-01-14 09:00:00
2016-01-14 15:00:00
Pacific/Auckland
Printmaking for adults: 9am - 3pm
Printmaking for adults: 9am - 3pm Free Enjoy a creative day exploring printmaking with Toni. An experienced tutor with a Master of Fine Arts in Printmaking, Toni will guide you as you create your own botanically inspired prints using layering and stencils cut from nature-inspired shapes. Materials are supplied. Please ensure you wear clothing suitable for making art. Bookings are required. Please contact the visitors centre for more information.  https://www.aucklandbotanicgardens.co.nz/retired-events-do-not-publish/printmaking-for-adults/
Auckland Botanic Gardens, 102 Hill Road, Auckland 2105, New Zealand
Auckland Botanic Gardens
botanic.gardens@aucklandcouncil.govt.nz
Add to calendar
Email us