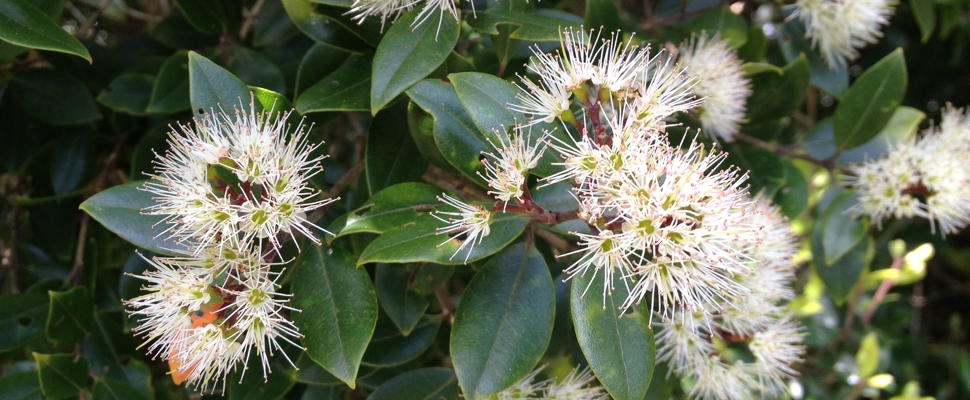 Auckland Botanic Garden scientists Bec Stanley and Emma Bodley have been hard at work in the intricate, fiddly and painstaking work of cross-pollinating the threatened Rātā Moehau, or Bartlett's rātā (Metrosideros bartlettii).
There are only 13 known specimens growing in the wild. The tree has suffered devastating browsing by introduced possums and is now highly vulnerable to loss of genetic diversity.
The pollination is taking place under the guidance of Ngāti Kuri whose collaboration has enabled cuttings of wild specimens to be grown in the Gardens' nursery. The pollen is sourced from these plants. If successful, the pollination will ensure a diversity of genes in a new batch of seeds which will one day replenish the species within the Ngāti Kuri rohe.
The iwi is also working to conserve other threatened taonga species including kaikōmako (Pennantia corymbosa) and the pupu whakarongo taua (pupu harakeke/flax snail).
Left to right; Rātā Moehau flower, flower after the stamens have been removed leaving only the female stigma, and using the tweezers to prepare the flowers.
The cross-pollination process involves peering through a magnifying lens and tweezering out the pollen producing stamens in each flower bud to leave only an unfurled stigma (this ensures the flower does not self-pollinate, which would not produce genetically diverse seeds). These are then covered in a bag ready for the application of pollen taken from the nursery plants. Each flower was pollinated twice, with four different crosses done in total.
View through the magnifying lens.
The seeding tree was planted in 1991 near the Threatened Native Plant garden and was sourced from a commercial nursery.
 "Hopefully these crosses produce viable seed to help the ex-situ conservation of Rātā Moehau," says Emma.
Rātā Moehau generally only flower every four years. The last flowering was in 2017 so this year was unexpected. Once the flower buds were spotted, Emma kept a daily eye on their development as the window for the cross-pollination is quite small.
Some of the pollen from the Garden's mature tree was sent to researchers in Wellington. They hope to further define the length of its viability, currently thought to be only a few days.
We will keep you posted on the success of the pollination. We should know by March if seed has been set.