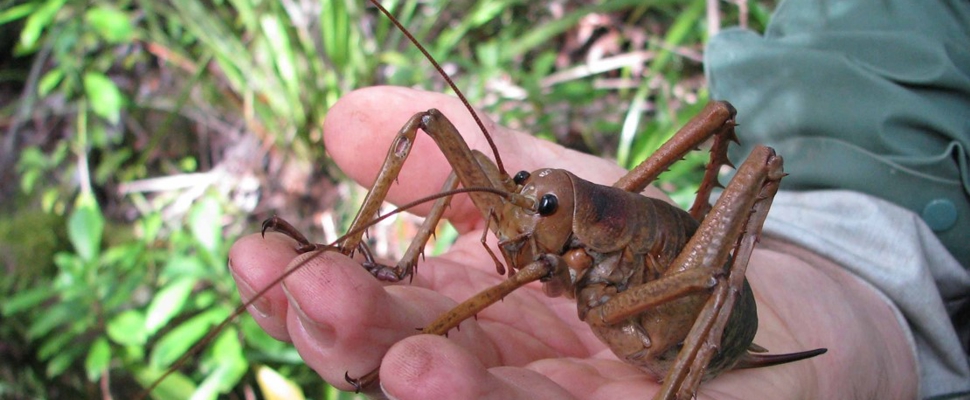 Back from extinction: learn about the giant weta
Just 13 years ago, the giant wetapunga was on the brink of extinction. But thanks to the work of the Department of Conservation (DOC) and partners, populations of the giant wetapunga flourish again on Tiritiri Matangi Island and Motuora Island. 
Learn about the amazing journey taken by DOC, Butterfly Creek and the Auckland Zoo to bring this wonderful creature back from the brink of extinction in this fascinating talk by Dr Chris Green, DOC scientist.
About the recovery programme:
The giant weta was previously widespread on the mainland throughout Northland and Auckland, including the Hauraki Gulf Islands.  After rats, stoats and many other exotic pests were brought to New Zealand this weta was wiped out from its entire range except for a single relict population on Te Hauturu-o-Toi/Little Barrier Island.  DOC, in partnership with Butterfly Creek and the Auckland Zoo, have managed a captive breeding programme to re-establish the wetapunga in the inner gulf. Dr Chris Green will give a presentation that takes us on a 13 year journey of how the giant wetapunga has been secured from extinction by establishing new populations on Tiritiri Matangi Island and Motuora Island
Dr Chris Green is a scientist with DOC who mostly works on insects. As well as weta he has worked on Argentine ant eradication, Great White Butterfly eradication, island restoration programmes, monitoring the impacts of rodents on invertebrates, and biosecurity programmes aimed at stopping pest species establishing in New Zealand and on island sanctuaries.
This talk forms part of our Botanic Gardens day celebrations:
10.15-11am: Conservation Expedition for kids, meet at the Visitor Centre. Suitable for ages 6-12 years. 
11.15-12pm: Conservation Expedition for kids, meet at the Visitor Centre. 

Suitable for ages 6-12 years. 

 

(repeat)
10.30am - 12pm A guided walk of our native forest with our curator. Meet at the Visitors Centre at 10.30am. Wear good walking shoes and bring a drink bottle.
1pm-1.45pm - Back from extinction talk by Dr Chris Green (30 minute talk followed by questions)