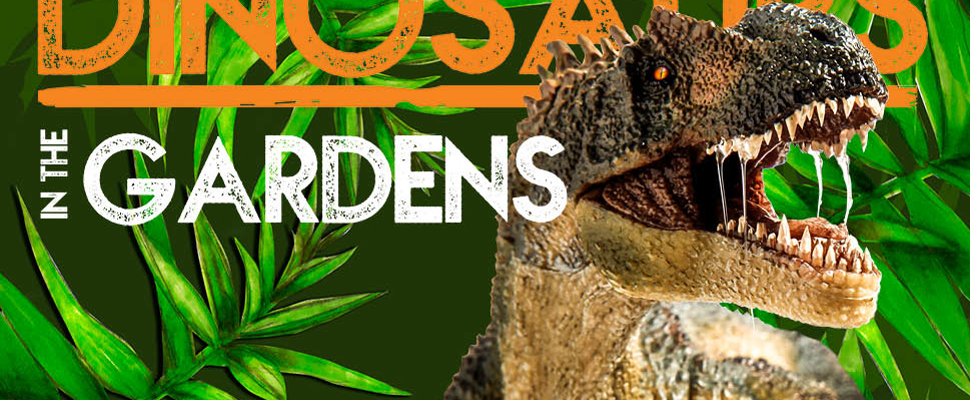 Dinosaurs in the Gardens
Step back in time 200 million years, and come face to face with New Zealand's prehistoric dinosaurs.  Discover an amazing lost world, brought to life with dinosaur encounters under the magnificent trees in our Gondwana forest.
Explore our Gondwana forest to discover descendants of the plants that dinosaurs lived amongst 
Visit our display in the visitor centre to learn about the dinosaurs that lived here in New Zealand, see reproduction dinosaurs, fossils and plants
Go to a Dinosaur Encounter to meet a dinosaur and learn more about New Zealand's prehistoric plants.
Dinosaur Encounters
Dinosaur Encounters take approximately 20 minutes and are free to attend.  There is a fee to enter the 'Dino Zone' between shows ($5 per child, $2 per adult). Activities in the Dino Zone include dinosaur petting, dino selfies, sieving for a fossil shark tooth to take home and the chance to get up close to a nest of Tyrannosaurus Rex eggs!
Face painting, balloons and dinosaur merchandise will also be available for purchase.
Dinosaur Encounters are at 10.30am, 1.30pm and 3pm from Saturday 7 January - Sunday 5 February 2017.
Register for a Dinosaur Encounter session here.
NOTE: young children may find the dinosaur encounters scary, parent discretion is advised for children under 5 years old.


7 Dinosaurus things to do...
There's loads of Dino fun to be had here at the Gardens, we've made a list of our favourite activities.  You can download a copy of it here.  How many can you tick off in one day?
Parking
There is designated parking for the event at the Everglade Drive entrance to the Gardens.  We recommend you avoid the traffic and car park queues and go straight to the Everglade entrance.
Directions to Everglade Drive from the motorway
Directions from the Hill Road entrance to the Gardens
Dogs
For the safety of kids (and dogs) the area where we're holding the Dinosaur Encounters will be a no-dog zone during sessions.  Our usual designated off-leash area will be available throughout the event.
Gigantosaurus colouring competition
Our colouring competition closed on 15 January, 2017.  Winners have been contacted and named on our Facebook page.
Need more info?
Stay up to date on our Facebook page and check our FAQs for common questions.
Every
Saturday and Sunday
from Saturday
7 Jan 2017
to Sunday
5 Feb 2017
Encounters are at 10.30am, 1.30pm and 3pm.
Bookings required FREE
Email us