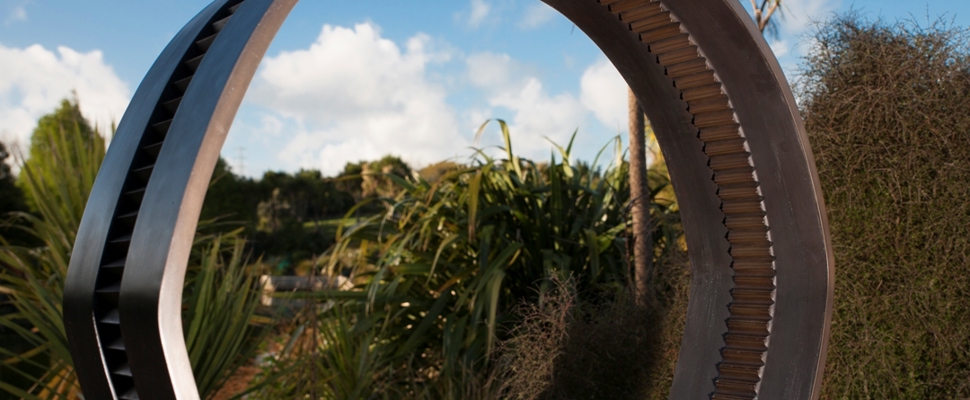 Several new faces are among the 20 New Zealand sculptors selected to participate in the Sculpture in the Gardens exhibition at the Auckland Botanic Gardens in November.
The Friends of the Auckland Botanic Gardens have announced the sculptors selected for the 2015 exhibition, which also sees a host of previous exhibitors returning for this prestigious biennial event.
The curatorial panel of Linda Tyler, Rachel de Lambert and Richard Mathieson are impressed with the high quality proposals the exhibition attracts. "The selected sculptors rose to the challenge of the Auckland Botanic Gardens site with enthusiasm, and have created outstanding landscape-inspired ideas for three dimensional forms to complement the garden, water and plant features," says Linda Tyler.
Rachel de Lambert adds that the curators are thrilled with the variety of artworks selected and confident that visitors are going to enjoy the show which opens in November this year. "This year's proposals numbered over 70 and were a delightful mix of creativity and pragmatism. The curatorial panel has selected the 20 best, robust public works for inclusion in the 2015/16 show."
Chair of the council's Parks, Sport and Recreation Committee, Councillor Christine Fletcher says the event has been a big success in attracting visitors to the gardens. "The last event attracted more than 400,000 people who not only got to enjoy the art but the gardens themselves."
The selected artists are up for two awards:
The McConnell Family Supreme Award – chosen by the curatorial panel and announced at exhibition start on 28 November 2015
The People's Choice Award – chosen by votes from visitors and announced at the exhibition end on 6 March 2016.
The Friends of the Auckland Botanic Gardens selects an artwork from each exhibition to become part of the permanent collection; this acquisition will also be announced at the opening on 28 November 2015.
In the 2013/14 exhibition, Alterations by Louise Purvis was awarded the McConnell Family Supreme Award and Jamie Pickernell won the People's Choice Award for his work Oh Crabby, I do believe we're rather lost! The Friends selected Bing Dawe's Tuna for acquisition.
Visitors can enjoy the Sculpture in the Gardens exhibition throughout summer, it runs from 29 November 2015 to 6 March 2016. Entry is free.
SCULPTOR LIST - SCULPTURE IN THE GARDENS 2015/16 
| | |
| --- | --- |
| Graham Bennett* | Beckenham, Christchurch |
| Lucy Bucknall*** | Devonport, Auckland |
| Bing Dawe***** | Hoon Hay, Christchurch |
| Sam Duckor-Jones | Featherston, Wairarapa |
| John Edgar**** | Henderson, Auckland |
| John Ferguson | Albany, Auckland |
| Regan Gentry** | Northland, Wellington |
| Bev Goodwin** | Orakei, Auckland |
| Natalie Guy | Parnell, Auckland |
| Samantha Lissette*** | Titirangi, Auckland |
| Chris Moore** | Oratia, Auckland |
| Garry Nash | Grey Lynn, Auckland |
| Jonathan Organ & Jessica Pearless | Devonport, Auckland |
| Jamie Pickernell**** | Rotorua |
| Ramon Robertson | Howick, Auckland |
| Llew Summers**** | Mt Pleasant, Christchurch |
| Marte Szirmay**** | Mt Roskill, Auckland |
| Jeff Thomson***** | Helensville, Auckland |
| Richard Wedekind**** | Waiheke Island |
| James Wright** | Clevedon, Auckland |
* Indicates the number of times artist has exhibited at Sculpture in the Gardens exhibitions, (includes the upcoming 2015/16 exhibition).
Visit sculptureinthegardens.nz for more information