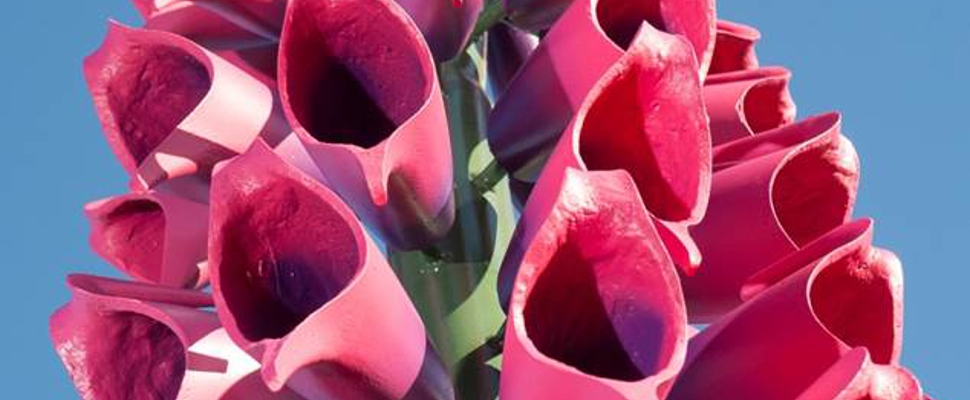 On Sunday 6 March, we celebrated the closing of the exhibition with a festive, fun-filled day and the announcement of the Friends of Auckland Botanic Gardens People's Choice Award, won by sculptor John Ferguson. Mr Ferguson's botanically inspired sculpture, Khulu won almost 25% of the vote – in which 6,444 visitors chose their favourite sculpture. "I would like to give a huge thank you to the visitors to the Gardens that gave Khulu the big tick. As I look around the exhibition and see the [artistic] company I am in, I am humbled and delighted to receive this recognition," Mr Ferguson says.
Outgoing president of the Friends of the Auckland Botanic Gardens Bill Burrill closed the exhibition and, together with new president Dianne Glenn, announced the People's Choice Award winner.
As well as the People's Choice Award, winners of the Sculpture in the Gardens writing competition were also announced. Judge Sarah Matthewson was impressed with the technical and thematic diversity amongst the entries.
Lyn-Marie Harris's tribute to Garry Nash's Waypoint: took out the of over 18 years category
Sophie Dixon's Journey won the teens' category
Ella Mitchell won the children's category with her entry Reach for the Stars.
More than 320,000 people visited Sculpture in the Gardens this summer and were delighted by the array of outstanding artworks, free activities and gorgeous gardens. The team have already started planning the next exhibition for the summer of 2017/18.
Sculpture in the Gardens is organised by the Friends of the Auckland Botanic Gardens, the Auckland Botanic Gardens and Auckland Council with support from the Manurewa Local Board and many valued sponsors and volunteers. Visit www.sculptureinthegardens.nz for more information.