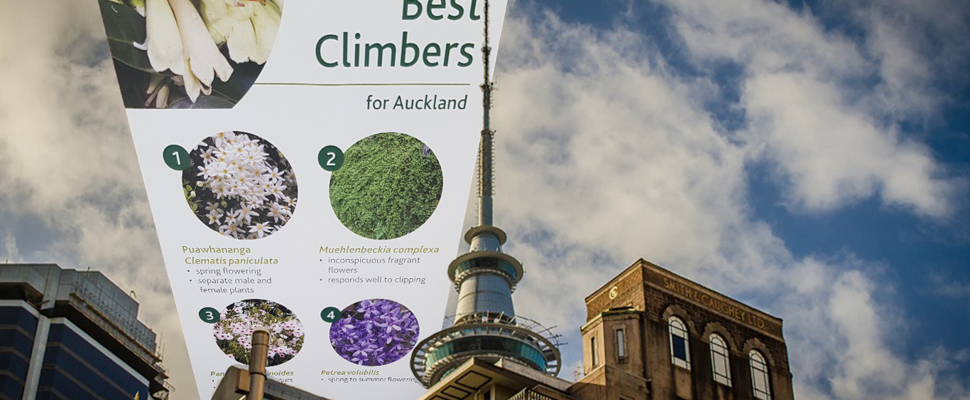 Gardening can be as simple as digging a hole and putting a plant in it. But the plant must be right for the hole, and the hole must be in the right place for the plant.
Our new Plants for Auckland guides show you how to get this right, and how to treat your plants once they're in the ground.
For more than 30 years the Gardens have been testing the best plants to grow in Auckland.
Plants for Auckland brings this knowledge into the most user-friendly form yet. We have selected the top eight plants in categories ranging across the best shade plants, scented plants, succulents, ground cover, fruit trees, natives and more.
"People can put these plants in their gardens and have very high confidence they will deliver a really good return," says Botanic Gardens manager Jack Hobbs.
The information is available as 32 leaflets, as well as through a searchable database that allows users to select plants based on tick box filters that select for such things as plant type, shade cover, flower colour, or size.
"There is something innately gratifying about being in a beautiful place that you have created. I think that is why gardening is the ultimate art, because you are working with the animate as well as the inanimate. You have to dream what the work will look like and then you have to implement some technical aspects to make it happen, and that's what we are helping with." - Jack Hobbs
Selecting the right plant begins with thinking about where to plant, as this determines what to choose. The next question to answer is when to plant. Most gardening failures are combination of the wrong plant or the right plant put into the ground at the wrong time, says Jack.
"We're hoping more and more people will make informed plant buying decisions rather than buying on spec because something looks good at the point of sale, or on price."
The final question is how to treat it once it has been planted? The advice available through the Plants for Auckland answers all these questions.
How were the Star Performers chosen?
The recommended plants are all what are known in the Gardens as 'Star Performers'. They have all been trialed and found to thrive in Auckland conditions, without the use of pesticides. Those that thrive are then rated out of ten in attributes including form, foliage and colour, abundance and duration of flowering. Plants scoring 8 or more out of 10 are given the 'star performer' status.
Every plant has an ongoing review in the garden beds too, because things change such as disease invasion, or climate shifts.
All Star Performers must also be available to purchase. Many are available in garden centres while others must be bought through specialty growers online.
Ultimately, Plants for Auckland aims to give gardeners confidence, from which they can branch out on their own gardening path.