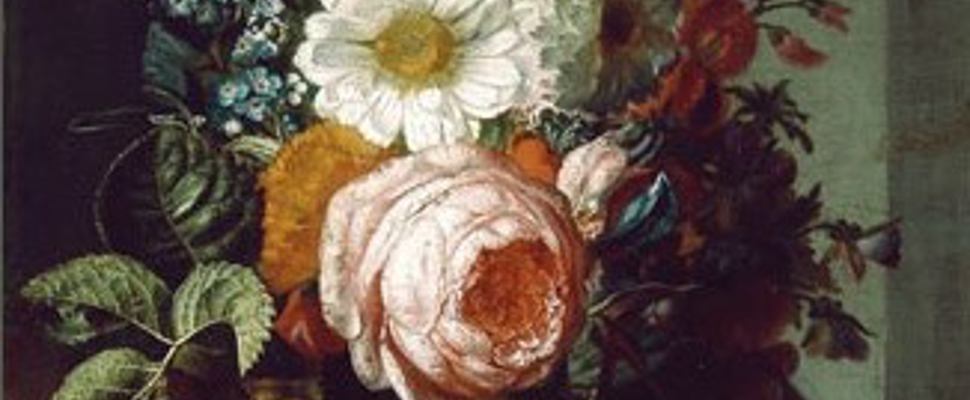 Article by Diana Tormey
From the earliest times, people were fascinated with plants, as depicted in art. Ancient Egyptian artists painted waterlilies and papyrus reeds alongside ducks and geese on the walls of tombs. A thousand years ago, Chinese ceramicists illustrated vases with glazes showing bamboo, camelias, and cherry blossoms along with dragons and clouds. In Pompeii, archeologists discovered murals showing citrus trees, lilies and other flowers, grown in pottery tubs.
From 800 AD, European monasteries produced herbs and vegetables not only as food but as medicine. Their calligraphers had the additional task of drawing medicinal plants in detail, with suitable notation, on hand-made paper and ink, and exchanged information with other monasteries.
In centuries of exploration, collectors vied for treasures such as tulip bulbs and other flowering plants from the middle east and further afield. To reassure their customers, plant traders employed artists to depict the plants flowering; accurate rendition of colour, shape, and size was required; so they were also coloured. (Rather like seed packets today.) Demand rose rapidly, so the drawings were reproduced in large numbers in print, then individually painted in colour. Plant collectors preserved these images, which became a valuable record. The style and process of these images have influenced modern botanic art.
The craze for exotic plants developed into a greater demand for flower paintings as home decoration. The oil paintings of Rachael Ruysch made her internationally famous. The daughter of a Dutch plant trader, she painted his product adverts, then went on to portray fabulous displays of exotic plants, accompanied by butterflies, bees, and lizards.
Maria Merien from Germany also painted plants for identification; she became fascinated by the insects she found on them. She later travelled extensively, contributing significantly to the science of entomology with her meticulous depiction of insects and their lifecycles.
Marian North, a Victorian, also travelled widely, recording her journeys in small oil paintings, with particular attention to the plants she found.  These paintings are on display at Kew Gardens.
It's well known that Captain Cook employed Banks and Solander as his artists, to collect, preserve, and portray the plants they discovered wherever they visited. Since then, other artists had the same task – among them Parkinson and Cheeseman. The 'lady painters' in New Zealand in the 1800s  - Martha King, Emily Harris, Fanny Osborne, Sarah Featon, Georgina Hetley, Isabel Hodgkins, and Margaret Stoddart – among others, continued the trend, with exquisite depiction of then unfamiliar species, portrayed as decorative elements – in publishing, for display in galleries, and in the home. Theirs was a considerable contribution to botanic research and botanic painting in New Zealand.
The tradition of paintings of plants as decoration has developed world-wide, with new materials in illustration, new styles, and new approaches. Print-making continues, as do graphite, pen-and-ink, watercolour on hand-made paper, and glazes for ceramic; now we are supported by photography, and also have colour pencils, metalwork, and woven natural fibres, fabric-work and embroidery.
And the 'look' is changing. Once, botanic images were essentially technical, informative, while being carefully arranged on the paper. These are still true and important aspects of botanic art.
Now, there's more to it.  There is often a 'mood', a sense of the plant being an object among other objects – one within the environment.  Focus may be on an aspect - a single leaf, flower, fruit or seed pod. Treated as 'portraits', attention is on the specimen's particular features, those making this special. Giganticism implies even deeper research – a closer look as through a magnifier.
An appealing aspect of the more traditional botanic art is its lightness, its delicacy. Today, it may imply the fragility of our world, a sense of the ethereal. The expanse of white space in the image is ideal in minimalist décor, suggesting light and space and airiness.
Bolder representation, especially with tropical themes, still appeals. The lines are simpler, more straightforward than the elaborate arrangements of the baroque and curlicues of the Victorian era. A combination of different plants from various parts of the world in today's garden, is brought into the home, as a solid backdrop linking and unifying elements in the décor.
Plants are an intrinsic part of human life; and colour contrast, patterning and placement within the frame reflect the influence of today's culture and society.
Change is certain, in art as in everything else. Painting our natural world is sure to reveal more; a wider use of different materials and broadening the baseline, in the search for what is real and true, to discover what really matters.
Friends of the Gardens botanic art group
The botanic art group is a division of the Friends of the Auckland Botanic Gardens, which started in about 1983. The number of artists has grown considerably in the last ten years, indicating the increase in interest in botanic art and flower painting. The group hold an exhibition at the Gardens every year, demonstrating the range of skills and approaches. This year, the exhibition was delayed by the COVID19 pandemic, and we were encouraged to present work we had done while in 'lock-down'.
Our present Chair, Lesley Alexander, has strong administrative skills; she studied botanic art through The Society of Botanic Artists, UK. Together with Liz Powell and their support team, their attention to detail in presenting this exhibition has made it the best we have ever shown.
The artists meet at the Friends' Building at the Botanic Gardens, on the last Saturday of each month. Talented local artists are regularly invited to give demonstrations and share their knowledge and experience.  The meetings are fun and supportive, encouraging experimentation and observation. It is amazing to see the progress of 'newbies' in becoming skilled artists while learning more about the incredible world of plants.