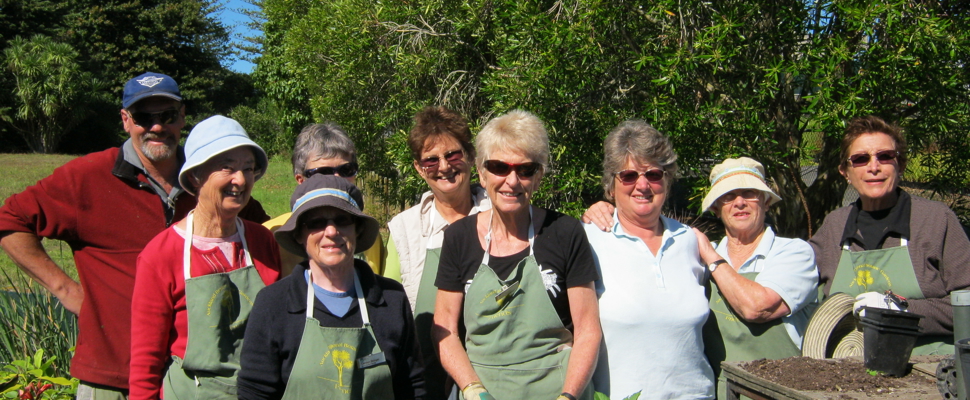 The Friends is a non-profit organisation with over 400 members who enjoy a programme of events and activities that support the Auckland Botanic Gardens.
You don't have to be a gardener to be a part of this great organisation, a desire to support the Gardens is all that is needed.
The Friends have various opportunities for members to meet both socially and in volunteering activities throughout the Gardens. They raise funds to support garden developments and stage great events including the Visiting Artist Programme and Sculpture in the Gardens. Learn more about Friends programmes here.
Keep an eye on the News section for Friends' announcements, articles and more.
Date changes, please note:
Sculpture in the Gardens date changes
Due to the current COVID-19 situation, the Sculpture in the Gardens Organising Committee has delayed the opening of Sculpture in the Gardens by a few weeks. This additional time should allow us to get some certainty around the COVID-19 levels, allow the Gardens to fine-tune their visitor protocols, and support those of our artists who have been delayed by COVID level restrictions.
At this stage we plan to open in early December. This will be confirmed once the Sculpture in the Gardens team has worked through their new health and safety plans, and had them approved by Council.
Friends Preview postponement
As result of the date changes for the exhibition, the Friends Preview has been postponed. Hence the date of Wednesday 17th November advertised in the current issue of Our Garden is longer valid. We will let you know when we have a new date, and what the event format might be. 
Thank you!
We are so sorry to have to change the plans for our Friends members, we have made this decision with the best interest for the exhibition, our artists and the safety of all our visitors, but thank you all for your ongoing support of the exhibition!
Deferral of AGM
Owing to the continuing uncertainty of lockdown level changes the Friends Executive Committee has decided to further defer the Friends AGM. The new date is Saturday, January 22nd.
The programme is as published in the September newsletter.
For catering purposes, if you are attending the AGM and the social event, please RSVP by January 12th to friendsofabg@gmail.com or leave a message at the Visitor Centre, 267 1457. Thank you.
We apologise for the ongoing deferral of the meeting, however it is important that Friends are able to meet as a group and that important aspects of the AGM such as the presentation of Life Memberships and thanks and recognition for members' contributions can be made in person.
Friends newsletters
Become a Friend 
New members welcome! Find out more about membership benefits and how to join here.
Donations
Find out more about making a donation or bequest here.
Contact the Friends
If you have any queries about the Friends, please email friendsofabg@gmail.com or phone 021 122 7418.
----------------------------------------------------------------------------------------------------------------------------------------------