Auckland Botanic Gardens is celebrating 40 years since it opened to the public. On 23 February 1982, we formally welcomed the first visitors to what was then the world's newest botanic gardens.
Crowds came for the opening ceremony, drawn to the presence of world famous tv botanist David Bellamy (aka the 'Botanic Man') - who had been flown out from Britain for the occasion. Here was Aotearoa's biggest city finally catching up with Wellington, Christchurch, and Dunedin in getting itself a botanic garden. It may the country's newest but it is also now the biggest at 64 hectares!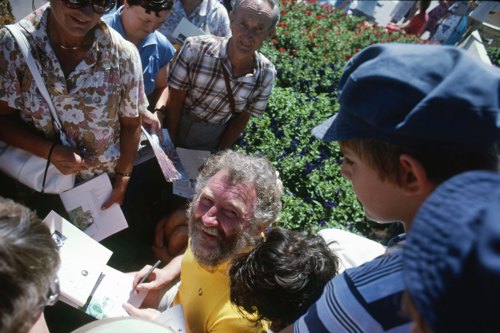 Star power. Crowds came to the opening ceremony, drawn to the world famous botanist David Bellamy.
Large parts of the site were still the domain of the cattle and sheep, but the area closest to Hill road and the southern motorway had begun their transformation into the beautiful gardens of today.
Since the mid-1970s a small team with a big vision had been quietly sowing seeds, landscaping, planting, planning and imagining the gardens into existence. A nursery had been built as the mothership of the plants to come, annual flower beds were arranged in symmetrical patterns, a native cultivars garden had replaced the gorse growing beside the southern motorway, new lakes were filling behind dams built across the central stream bed, and the first plants of the African Garden were taking root in the Manurewa soil.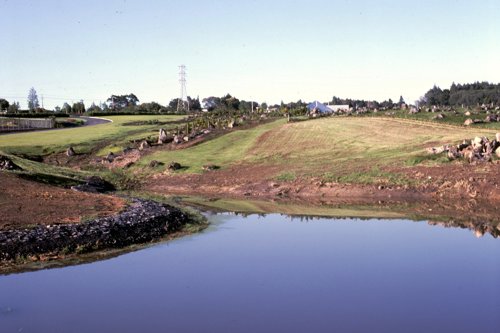 Top lake filling up in 1981, one year before the gardens opened to the public.
Auckland Botanic Gardens manager Jack Hobbs started work at the gardens as 24-year-old in 1977 (before going on to become nursery manager, foreman, curator and then manager).
"It was really an exciting time. What an opportunity, to turn a farm into a garden."
Jack says it took time for Aucklanders to realise they had a Botanic Gardens, but as the gardens developed and the trees grew so did the number of visitors. The 98,000 visitors in the first year had become over one million by 2021.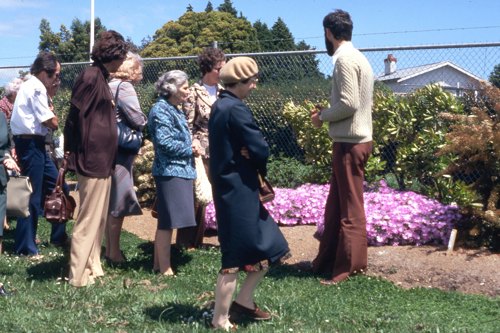 Though not officially open to the public private tours came to see the early plantings, as seen here in 1978.
"Getting people excited about plants and about gardening, that's what we are about.  But we are also a place where people can connect to nature, to be in a beautiful place is very, very therapeutic, it is very good for people's wellbeing," says Jack.
From a bare bones beginning Auckland Botanic Gardens has become one of the city's most beautiful places, as well as a place of learning and scientific research, a place of memories and celebrations, relaxation and inspiration.
Over the next 12 months, Auckland Botanic Gardens is celebrating its 40th birthday by telling the story of our first four decades. The story will be told on our website, on social media and in our Huakaiwaka visitor centre where visitors will also be invited to share their own memories of the gardens.