The nights may be drawing in and the weather cooling but it is a great time to be working in your garden. The arrival of autumn rains means the soil is moist but still warm so your shrubs, trees and even lawn will have time to establish before everything slows down over winter.
Our gardeners have been working hard through the dry summer and the Botanic Gardens are looking lovely if you want to visit and get some ideas before you start digging.
Here are our top tips for what you should be working on in your garden this autumn.
Harvesting
Enjoy the fruits, veges and flowers of your labour. Beans, chillies, pumpkins, fejoas, figs as well as many others will still be around and ripening. Remember to dig up those Jerusalem artichokes, roast them to eat with fish or throw them on a pizza and enjoy with friends!
If you bought plants from the garden centre last year, why not try growing next year's crop from seed? Collect ripe seeds from plants such as peas, beans, marigolds, sunflowers and sweet peas and follow our tips for growing seeds.
Feijoa (Acca sellowiana)
Preparing
Now's the time to clean up the garden and prepare for planting! That's right, no time to rest on your laurels autumn is a great time for planting. Before that it's time to prune and prepare the beds.
If you have fruit trees e.g., peaches and plums, this is the perfect time to prune them, just wait for the harvest to finish. Whilst you have the pruning shears out deadhead the perennial flowers, read our gardening team's guide for some tips. Remove summer annuals when they finish flowering and prepare the beds for autumn planting. This will involve adding lots of organic matter like compost, manure, general fertiliser and/or blood and bone. Work it into the soil before planting seedlings.
Preparing the garden means that if you have a compost heap its likely to grow. If you have too much or don't have a composting system, check out Sharewaste and connect with people who are looking for more garden waste. If you'd like to start composting then the team at Compost Collective can help you find the best solution for the space that you have; attend one of their great workshops to learn more.
Planting
Autumn is the perfect time to plant. Planting whilst the soil is still warm allows trees and lawns to establish their roots over winter and spring. Trees will need lots of mulch but this will mean that it will need less water in the summer months. Great to add to your water savings! Read about planting trees here.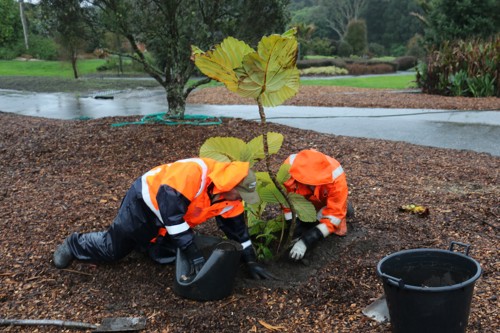 Botanic Gardens staff planting a dinner plate fig (Ficus dammaropsis) before the opening of the new Pacific Pathway, 2019.
If you don't have space to plant a tree but want to help the planet and get some extra gardening done over autumn then keep an eye on the Auckland Parks Facebook page for their planting days. Did you know that we grow most of the trees that are planted in regional parks?
For more information on seasonal gardening, have a browse through our month-by-month guide to gardening.