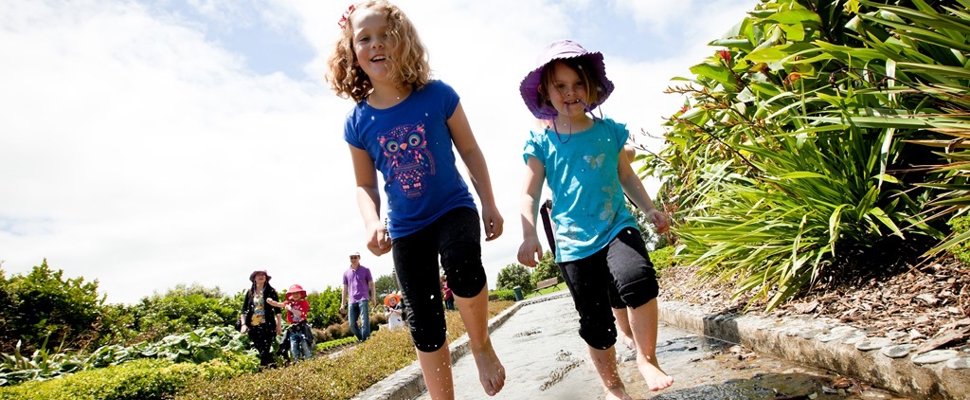 There's so much to see at the Gardens!
Discover more on a tour with our knowledgeable staff.  We run free guided walks every Wednesday, and can organise group or bus tours on request.  
If you prefer to discover the Gardens at your own pace, pick up a brochure for one of our self-guided trails from Huakaiwaka visitor centre. 

Self-guided tours

Create your own route as you explore the Gardens at your leisure, or pick up a trail brochure from the Huakaiwaka visitor centre.

Native Plant Identification Trail

Explore the Threatened Native Plants Garden and learn how to identify some of our native plants as you make your way around the Native Plant Identification Trail.

Permanent Sculpture Trail

Nestled in garden collections, along walkways and at Huakaiwaka visitor centre (itself a work of art), you will encounter our permanent collection of artworks and sculpture.

This growing collection is a legacy of past sculpture exhibitions, of generous benefactors and the vision of garden creators who have incorporated art work into their horticultural work.

Puhinui Stream Forest Trail

(Please note that the lower track of the forest trail walk between bridge 1 & 2 are undergoing maintenance between 2-10 Nov 2016 so access to the whole track will be restricted. Contact the visitor centre for more information). 

The Puhinui Stream Forest Trail links the native forest walking tracks between Totara Park and the Auckland Botanic Gardens. The full loop trail is approximately four kilometres and will take around two hours at a leisurely pace. (uneven ground and steps make this inaccessible for those in wheelchairs or scooters or pushing prams).

Sustainable Water Trail

Our lakes were once affected by contaminated stormwater. We decided to fix that by introducing a number of water sensitive design devices at the Gardens.

Follow this trail for a tour of the solutions that are improving our stormwater runoff and the health of our gardens.

Guided tours

Wednesday Walks

We take a free guided walk every Wednesday at 1pm. The hour long walk takes in the seasonal plant highlights. No bookings are required.

Free of charge.



Group Guided Walk

Groups can book a staff guided walk and enjoy an hour long tour of the seasonal highlights of the Gardens. Please note that group walks are available on weekdays only and bookings are essential.

$50 per community group. Please enquire with the visitor centre staff on prices for commercial groups.



Wiri Rambler 'Train'

Sit back and relax as the Wiri Rambler shows you the sights. The Wiri Rambler is a small tractor train, towing carriages with up to 16 passengers. Tours run every Sunday throughout the year, as well as Saturdays and public holidays during the summer.

The tours last 30 minutes and start outside the Huakaiwaka visitor centre, from approximately midday until 3pm (weather dependant).

$2 per adult
$1 per child (3yrs to 13yrs, accompanied by an adult)
Free for under 3 yrs
Private group bookings available.



Community Bus Tour

If bringing a tour bus to the Gardens, a staff guide can join you for a 30-40 minute bus tour around the Gardens. Occasional stops can be made to view plants and seasonal highlights more closely.

Weekdays only, bookings essential.

$50 per bus (Please enquire with the Huakaiwaka visitor centre staff on prices for commercial groups).



Further information

For further information or questions about our tours, or to make a booking, contact our Huakaiwaka visitor centre staff.