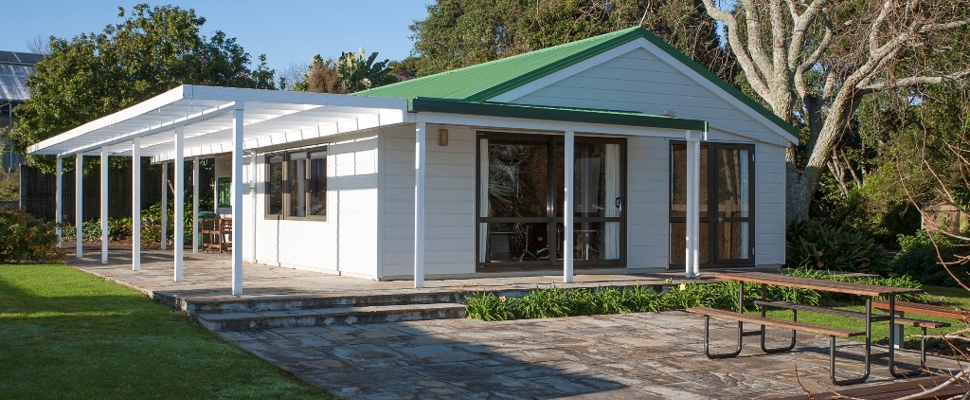 Located close to the southern motorway and with free parking, the Auckland Botanic Gardens is a great option for meetings and small conferences. 
Sited within the Edible Garden this older Lockwood style building offers a kitchen, dining, and meeting area. Sliding doors open to an outside paved courtyard located adjacent to the Culinary Kitchen Courtyard.
Detail:
The venue seats 45 people lecture style or 20 people meeting room style.
Facilities:
6 tables and 45 chairs
a projector screen (bring your own laptop and data projector)
Whiteboard
Heat pump
Toilets
Accessible access
Kitchen includes an oven, hot water zip machine, fridge and microwave (plates, cutlery and cookware needs to be supplied by the hiree).
Café Miko
Our exclusive onsite caterers, Café Miko can take the stress out of organising your event and have available a range of catering options for you.  Outside caterers are not permitted at the Gardens.
There is a small parking area at the rear of the building that allows for two cars.
Hire
Monday - Friday: the Logan Campbell building is available to hire for a half day (8am – 12pm or 12pm – 4pm) or full day (8am – 4pm).  
Weekends & public holidays: the Logan Campbell building is available to hire for a full day (8am – 4pm). 
Rates:
 

Community rate*

Commercial rate*

Half day hires

8am – 12pm

12pm – 4pm

$78

($82 from 1/07/22)

$156

($164 from 1/07/22)

Full day

8am – 4pm

$156

($164 from 1/07/22)

$312

($328 from 1/07/22)
*Community and Commercial rates
 commercial group is any group where the purpose is to operate a business and/or obtain profit or gain from its operations utilising the Botanic Gardens, its facilities or resources.
A community group will be treated as a commercial entity if the organisation or any individual is making financial profit or gain from the group activities. This includes all activities where the total charges made to participants are above that, required, to cover the costs of providing that activity (unless the activity is disclosed and approved by the Auckland Council as a fundraising activity).
Community group includes all religious groups, clubs, associations, societies, educational institutes and trusts.
A commercial social group is where no profit or gain is generated from the use of the Botanic Gardens, facilities or resources. The Manager, Regional and Specialist Parks and/or the Council reserves the right to decide on the commercial or non-commercial status of the applicant.  
Bookings:
Contact the staff at the Huakaiwaka Visitor Centre 09 267 1457 to enquire about bookings. Note that due to the proximity of the buildings on site, staff manage all bookings to ensure style of use will not disaffect another building user.
Read our terms and conditions of hire.
Theming your event.
Alcova are wedding theming and event hire specialists. Available to style, theme & dress your event from seating and stretch tents to venue styling, lighting & entertainment. Alcova will cater to all your event needs, to make your event a success! Alcova have a range of packages to suit your event or can personalise a package to fit your needs. Contact the Alcova team today.
Make a booking
To enquire about a booking contact our visitor services team:
Phone (09) 267 1457 or email botanic.gardens@aucklandcouncil.govt.nz