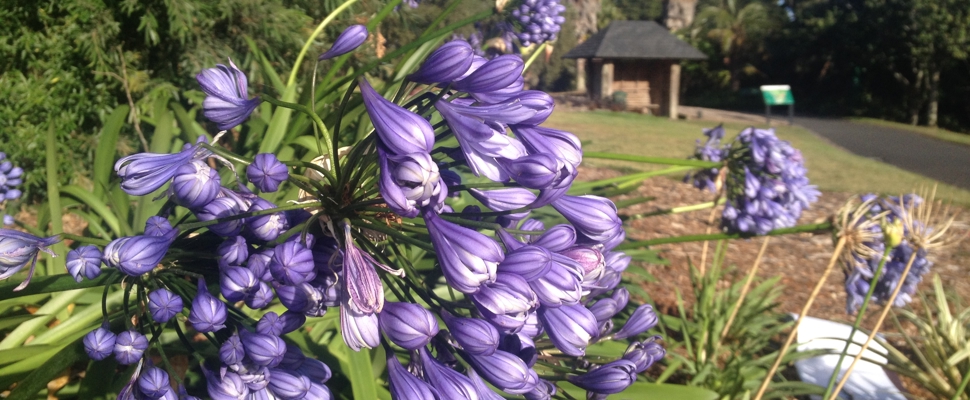 Low fertility Agapanthus Cultivars
Agapanthus (Agapanthus praecox) is a popular garden plant but its hardiness and high seed production mean it is an environmental weed. It's jumped the garden fence onto roadsides, coastal cliffs and forests where it outcompetes and smothers native plants. In some coastal cliffs, when the pohutukawa trees die of old age there will be no more trees to replace them as the carpet of Agapanthus prevents pohutukawa seedlings from growing. To slow further invasion of Agapanthus into natural ecosystems Auckland Council has declared Agapanthus praecox a Sustained Control plant in the Auckland Pest Management Plan 2019-2029.
The great news is you can still plant cultivars of Agapanthus that have passed low fertility tests. These cultivars do not produce any, or hardly any, seeds. This means they'll stay where you plant them and not affect natural places nearby.
A full article on the trialling process and assessments was published International Society for Horticultural Science in 2018 and you can read it here.
A. 'Agapetite'
A. 'Blue Finn'
A. 'Dorothy Edwards'
A. 'Finn'
A. 'Golden Drop' (syn. A. 'Gold Drops')
A. 'Goldstrike' (syn. A. 'Gold Strike')
A. 'Pavlova'
A. 'Sarah'
A. 'Thunder Storm' (syn. A. 'Thunderstorm')
We are working on 13 additional cultivars right now and if they pass the low fertility tests you'll see them on this list soon.
Who has tested these plants?
In 2012 an Agapanthus Working Group (AWG) was established to identify low fertility cultivars. The group is made up of Auckland Council Biosecurity, Auckland Botanic Gardens, Manaaki Whenua Landcare Research, Plant & Food Research, New Zealand Plant Producers Incorporated, and the nursery production industry.
I have a low fertility cultivar you need to know about...
The AWG is happy to add low fertility cultivars to this trial. If you are a plant breeder that has a cultivar with low to no seed production please contact us and we can outline how your cultivar can be included in this trial.