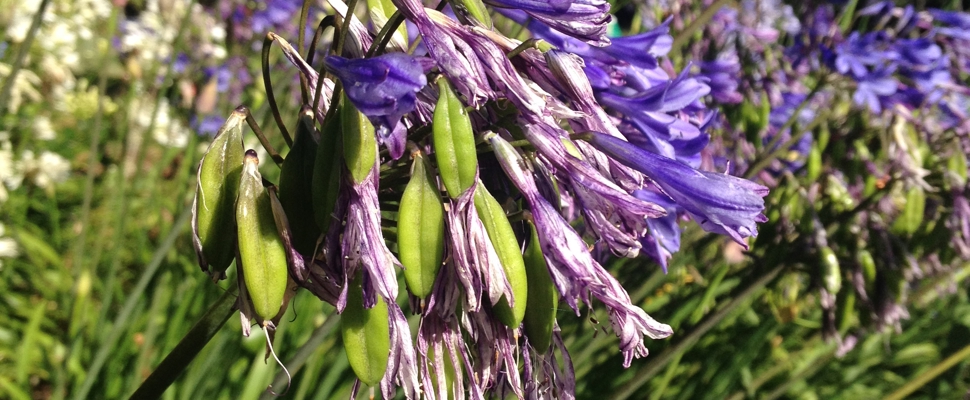 Agapanthus (Agapanthus praecox subsp. orientalis) is an African lily that is valued the world over as a beautiful garden plant. Over 60 years ago it jumped the garden fence in New Zealand and ever since has been creeping into wild natural areas. When it invades coastal cliffs it forms a dense ground cover and prevents the regeneration of native trees such as pohutukawa.
In 2008 this form of agapanthus was banned from sale in the Auckland region. Since then the Gardens, in collaboration with the Nursery and Garden Industry Association of New Zealand (NGIA), Landcare Research and Auckland Council Biosecurity team, have been researching and attempting to breed low fertility (ideally sterile) agapanthus cultivars. Learn more about this partnership and breeding work by listening to this radio interview with Bec Stanley.
So far this collaboration has identified a few cultivars that consistently have low fertility and are now working to assess their general garden performance. Most are dwarf forms, some are variegated and there's a range of whites and blues. It's too early to market them yet.
You can see this work in the trial garden. If you visit you'll notice the weedy wild form is growing there too. This is to mimic the "real world". If gardeners grow the low fertility cultivars it is highly likely somewhere near them is the wild form. By growing them together we can test the fact they are still low fertility even when the wild pollen is there to pollinate them.